This month the Foxy Bakers are giving away an Easter secret!
They've let us steal the Mini Egg Rocky Road Recipe! Perfect to make with the little ones this Easter half-term.
Print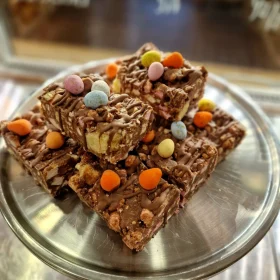 Mini Egg Rocky Road Recipe
---
400g

Milk Chocolate

125g

Unsalted Butter

125g

Golden Syrup

150g

Gluten Free Shortbread

100g

Marshmallows

75g

Meringue nests

225g

Mini Eggs
White Chocolate for Decorating
---
Instructions
To start, line a 20cm x 20cm brownie tin with greaseproof paper and set aside for later.
In a Bain Marie melt down your chocolate, butter and golden syrup until smooth and shiny.
Next, break up your shortbread and meringue nests into chunks in a large mixing bowl. Once broken up, you can add your marshmallows and half the mini eggs.
When your silky chocolate mixture is ready, pour over your dry ingredients and fold together carefully trying not to break up your chunks of meringues.
Once your chocolatey rocky road mix is ready, spoon into your lined brownie tin from earlier and flatten down with back of a spoon.  When flattened, place your tray into the fridge for about an hour to set.
Now it's time to decorate! Melt down some white chocolate in a Bain Marie or a microwave for some white chocolate drizzle!
Drizzle your melted white chocolate over your rocky road and place the left over mini eggs on the top.
Place back into the fridge to set your decorations for a few minutes then taaa-daaa your mini egg rocky road is ready to be cut into portions!
Enjoy with a cup of tea this busy Easter half-term with the little ones!
---