🦊 Foxy Recipe Alert 🦊⁠ ⁠ 🎄 Our Foxy Chocolate Christmas Pudding Balls⁠ 🎄
Print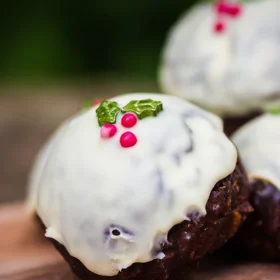 Recipe – Foxy Chocolate Christmas Pudding Balls
---
180g

Butter⁠

90g

Milk powder ⁠

180g

Golden syrup⁠

200g

Cornflakes⁠

40g

Cocoa Powder ⁠
White Chocolate ⁠
Christmas Decorations ⁠
---
Instructions
Melt the butter and golden syrup together.⁠

Once melted, add the milk powder, cornflakes, and cocoa. ⁠

Mix well! Make sure to break down your cornflakes to create your perfect pudding ball mixture.

Once your mix is ready, divide it into 10, using a spoon, and roll it into balls.

S

et aside to let your pudding balls set. ⁠

Once set, melt your white chocolate and carefully dip half of your puddings into the melted chocolate.⁠

Now it's time to decorate with your Christmas decorations!⁠

Leave to set in your fridge for at least 10 minutes.⁠

Enjoy the foxy way with a marimba hot chocolate! ⁠
---